Top Tips for Managing Time & Organization
---
Managing your time as a student is not an easy task. In order to balance all of the things you need to get done at school and in your home life, you will need to use your time wisely and efficiently. Learning to manage your time and keep organized can be the foundation to your overall success as a student.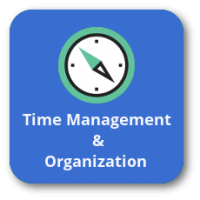 TOP TIPS
Start to organize and plan your time early in the semester
Create a Term Planner to guide you through your term
Plan out your weeks and break tasks down into Daily To-Do lists
Learn to Prioritize!
Prepare a plan for each of your assignments
Be aware of and avoid the hook of procrastination!
Be sure to plan for fun, family, social activities, extra curriculars - all of which are essential to your College experience
Your time is precious as a student so plan wisely!